Today Microsoft has not only released a couple of images but a 6 minute long interview with Frank O'Conner revealing a relatively large amount of information about Halo 4. The video can be seen above. Due to be released in the fall of 2012 it looks set  to return to its roots with Master Chief making a return along with typical Halo gameplay. What's this actually mean? Well, if you've ever played Halo:CE, Halo 2 or Halo 3 it looks like it will be much like that in most respects.
The first thing that's instantly noticeable is the improved graphics. Halo games have always have extremely high detail graphics but it looks like 343 have taken it to another level with this game, throughout the video small snippets of gameplay are shown and so far, graphically, it looks to surpass any previous Halo title.
On a similar note Sotaro Tojima has been brought onboard who has previous worked on Metal Gear Solid games. While it's hard to tell from the tiny snippets we were given they certainly sound like the Halo we know and love.
Moving onto weapons and many will be extremely happy, myself included, to see a return of the Battle Rifle. This was missing in Halo: Reach and many were unhappy with the DMR and bloom. While it's hard to tell from the limited footage, it looks like bloom will not be in the game. This was already pretty much set as it wouldn't make a lot of sense for three "Master Chief Halo titles" to not have bloom and then to suddenly introduce it.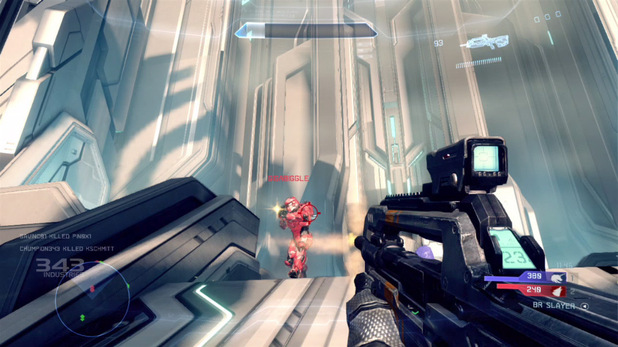 The Halo:CE pistol was also mentioned but not confirmed however Frank did confirm that old weapons will make a return (likely ones from Halo 3 that were on the ship seen at the end of the legendary campaign) as well as exciting new weapons, vehicles and sandbox elements. Frank labelled it as "the biggest overhaul in that aspect of the game in a very long time".
Getting on to multiplayer maps and thankfully it was confirmed that the maps were purpose-built for multiplayer. After Reach's, frankly, disappointing maps from the campaign many will be relieved to know that all maps will be purpose-built. Two maps were shown, both very different.
The first, named Wrap Around, is a forerunner-inspired map set "in the heavens" which is a solar facility. Although we got limited glimpses of the map it did remind me slightly of Narrows from Halo 3, but that was only from one angle.
The second map, named Warhouse, which is a starship flying around a gas giant. It looked much more close-quarters than Wrap Around, in terms of playstyle I imagine it plays similar to something like Epitaph from Halo 3 or even something like Sword Base from Reach.
Finally unfortunately there will not be a beta in any form. Look out for Halo 4 hitting stores in Holiday 2012!
A ViDoc has also been released which goes over some of the things covered in the interview, with a bit more depth to them in some areas. Most notable the fact multiplayer will have a "story" of sorts, such as why red spartans can fight blue spartans. The ViDoc can be seen above.